Grindz Menu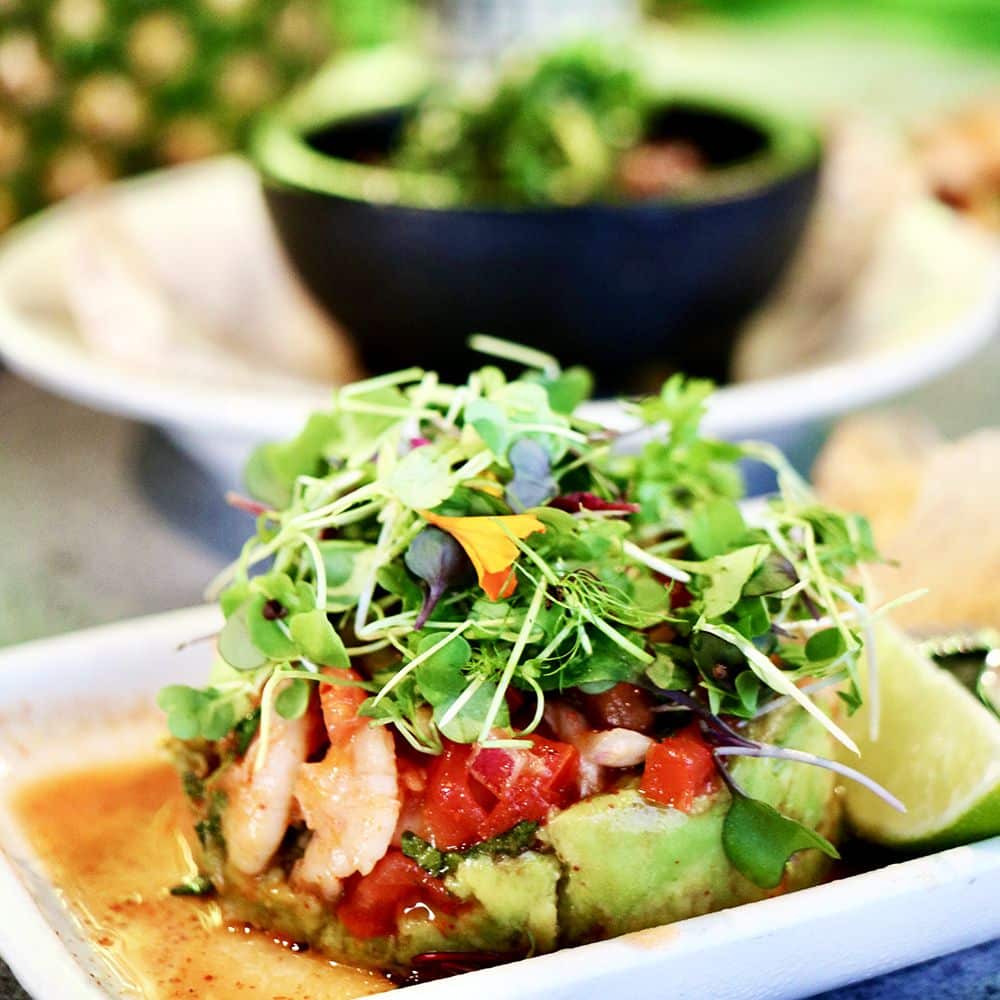 Fresh lime, cilantro, serrano chile, taro chips, red
onion, avocado, mango.
Fresh fried tortilla chips, black beans, pico de gallo,
queso fundido, guacamole, sour cream, cilantro.
chicken - 15, luau pork - 16.
Short rib, chicken, carnitas, chimichurri sauce, jalapeño crema.
Three marinated chicken thigh skewers with
pineapple mojo glaze & Mexican spices.
Made to order, with rum orange glaze.
A combination for sharing! Spring rolls, mojo chicken skewers, and coconut shrimp.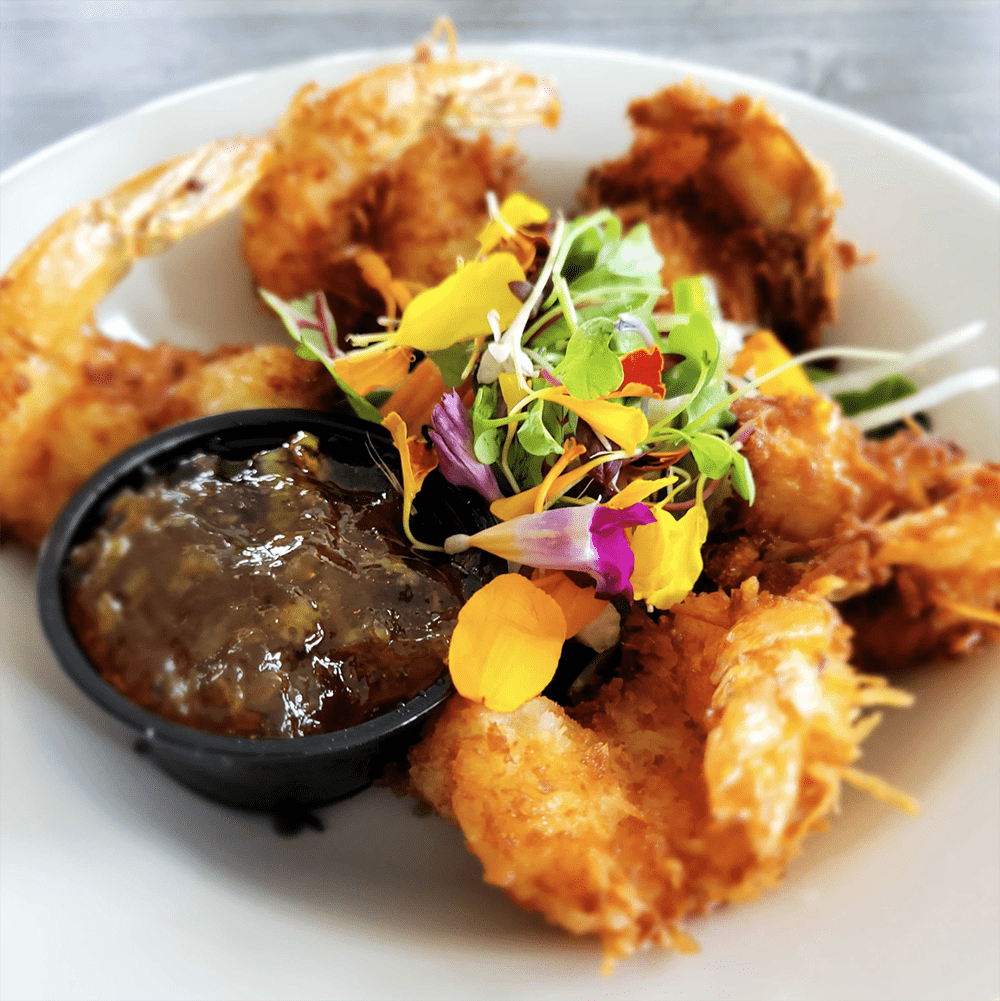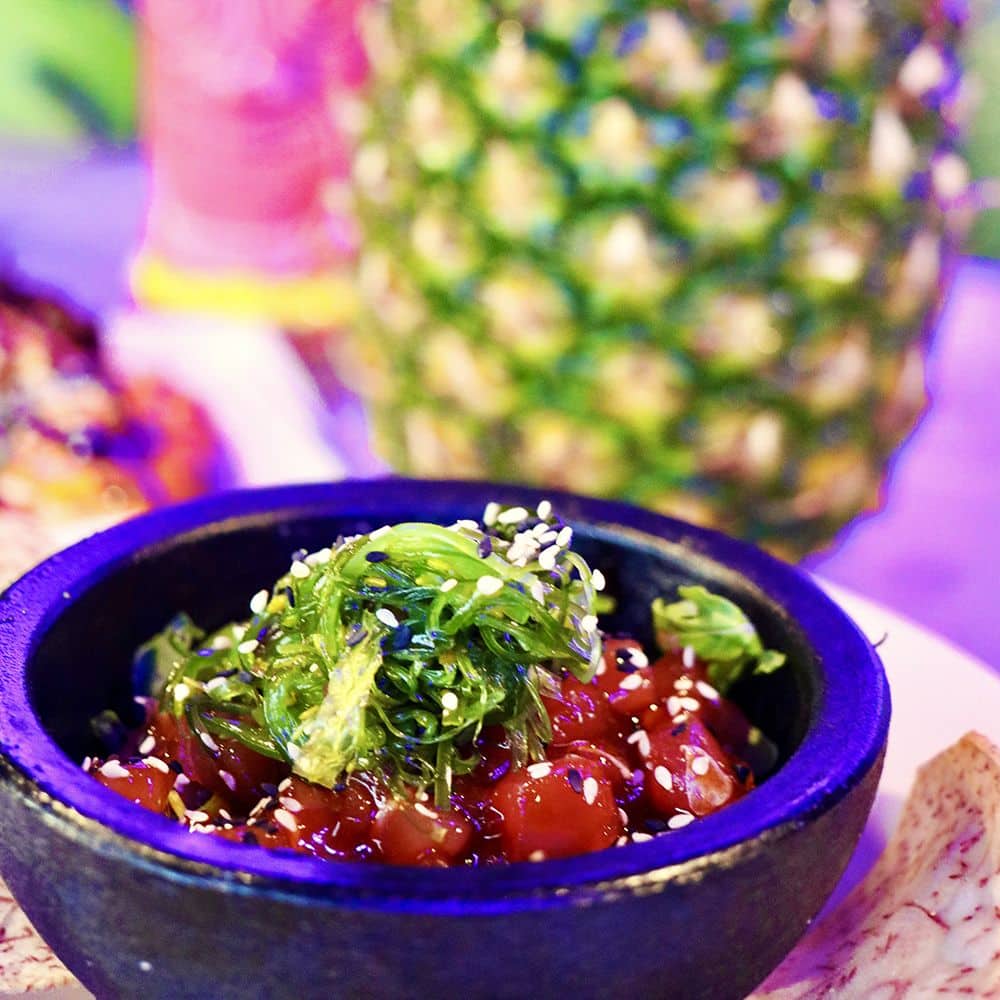 Sweet & spicy ahi tuna, seaweed salad, sesame
seeds, scallions, taro root chips.
Ancho Chile Chicken Quesadilla
Black beans, aztec corn, smoked bacon.
Red onions, tri-color peppers, aztec corn,
spinach, jack cheese.
add shrimp - 14.
Pineapple, ham, mozzarella cheese, sliced red onion.
Guava BBQ Short Rib
Flatbread
Braised shredded short rib, caramelized onions,
scallions, mozzarella, sesame seeds, kicking mayo aioli.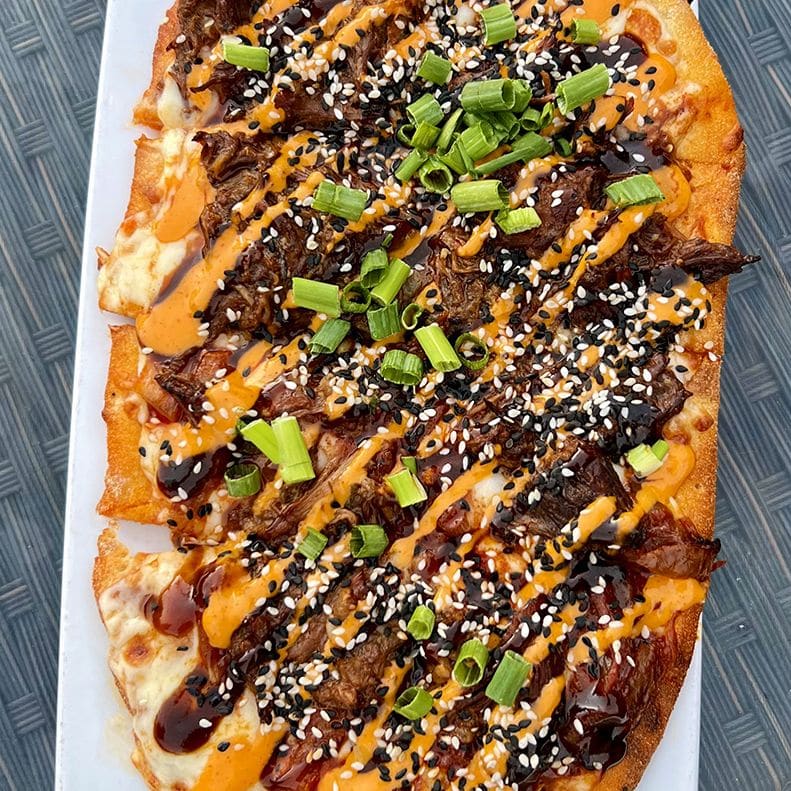 consuming raw or undercooked oysters, meats, poultry, seafood, shellfish, or eggs may increase your risk of food borne illnesses,
especially if you have a medical condition.
Bar Menu
Donn the Beachcomber circa 1934. Blend of 3 rums, juices,secret ingredients and absinthe. for your safety we recommend only 2!
A traditional way to kill the pain! Pussers Rum, pineapple, orange, and coconut shaken to
perfection with a nutmeg sprinkle.
Our color changing mojito made with Don Q Cristal, fresh mint, and Tiki God Magic
Dirty Louie's
Bathwater 10
Louie's favorite! Rumhaven, banana puree, lime juice,
blue curacao, and pineapple juice.
Don Q Limon, fresh
lime juice, whipped
cream vodka &
coconut cream.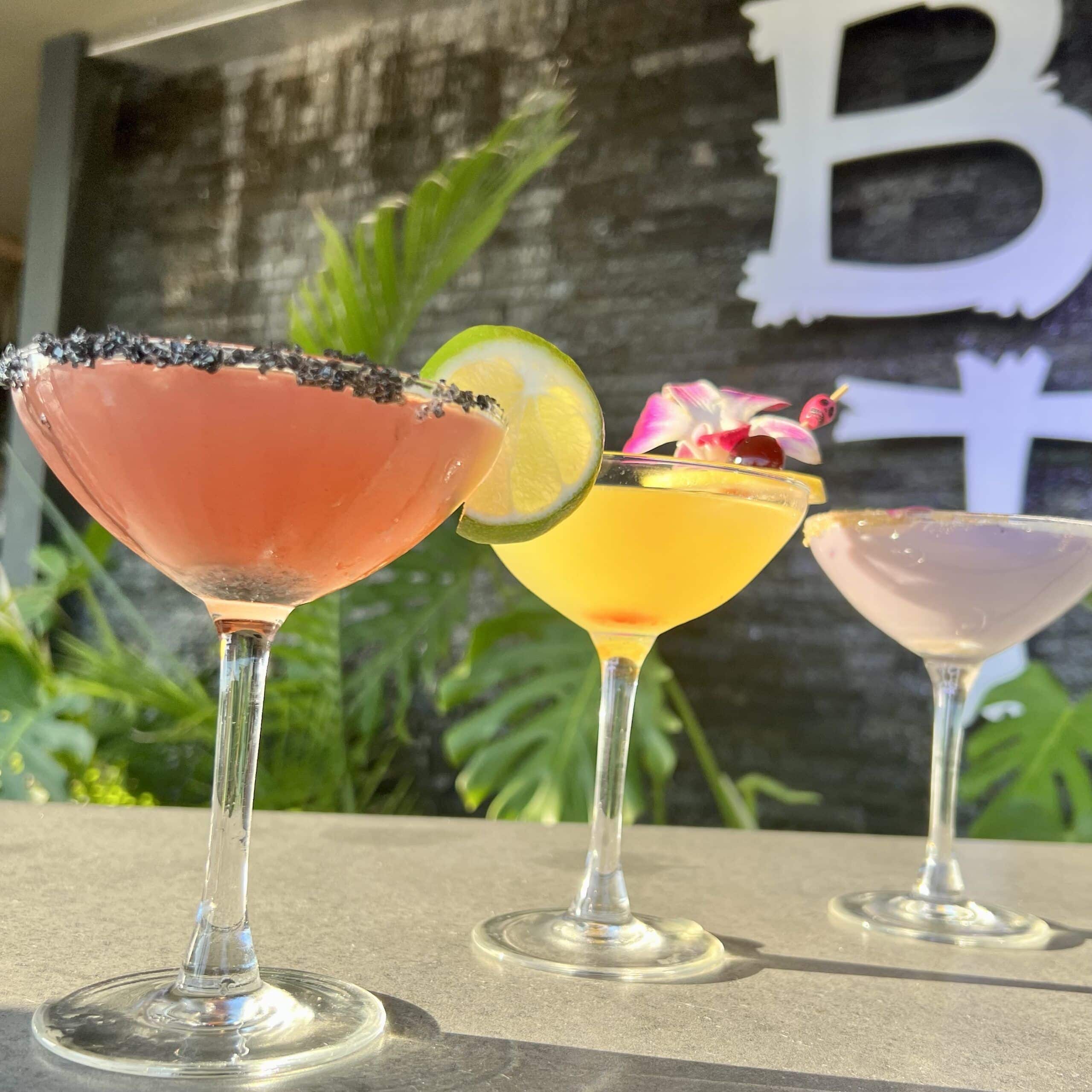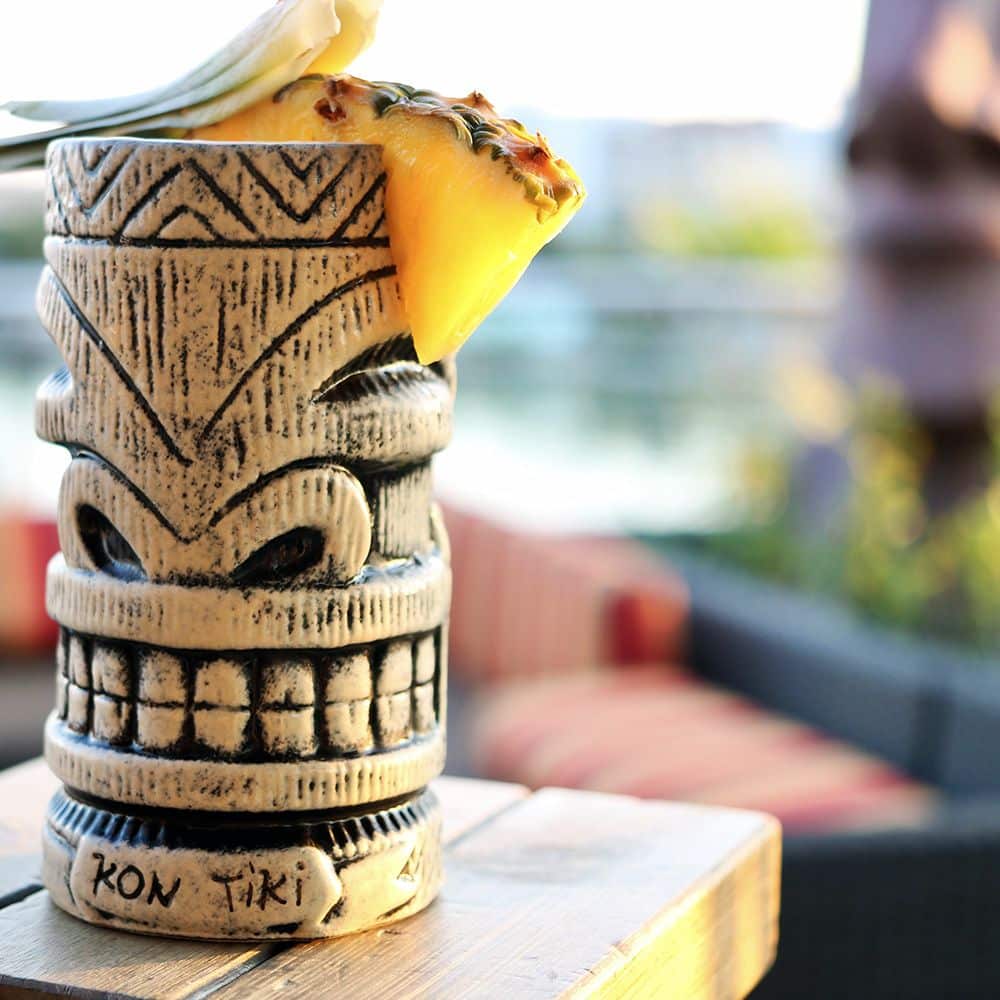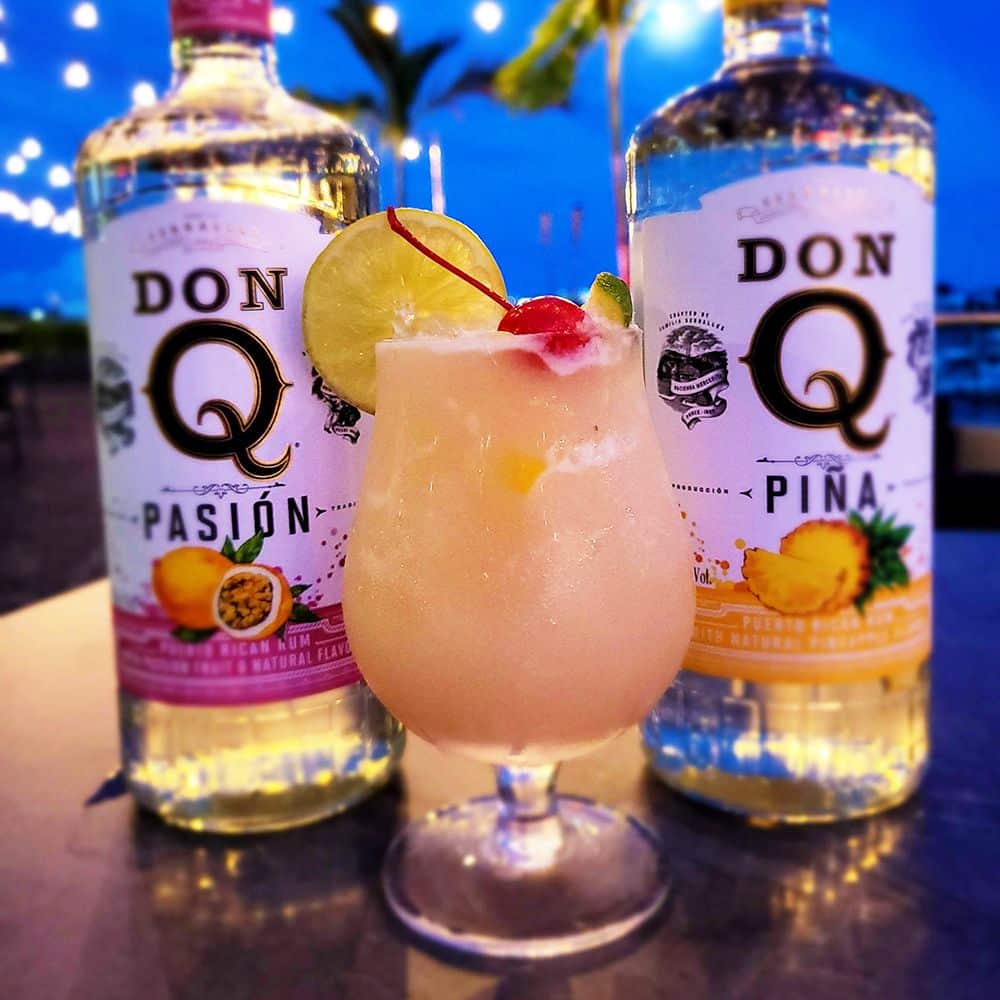 The original pina colada made with Don Q Gold, coconut, and pineapple.
A celebration of sweet with cinnamon infused Don Q, Ube, agave, macadamia, and white chocolatec
Trader Vic circa 1944. Blend of Don Q Reserva, fresh lime juice, orgeat, dry curacao and a Blackwell float
Out of this world flavor! Fy gin, fresh lemon juice, passionfruit, orgeat, and falernum.
Rumhaven
Mango Coco Daquiri 10
Not your every day daquiri! Rumhaven Coconut, gold rum, lime juice, mango puree
Hussong's Repo Tequila, Cointreau, fresh lime juice, and the god of the seas offerings create our black margarita.
perfected by Brett C.
A blend of rums Don Q himself would appreciate. A nod to the classic POG on the islands featuring passion, orange, and guava.
This potion of life is a
concoction of Don Q
Passion, peach puree,
pandan, lime juice,
and pineapple juice.
crafted by Alyx G. 2023 Caffeine meets Tiki! Don Q Cristal, cold brew, white chocolate, and coffee liquor.
Ask your bartender about our seasonal ocean vodka cocktail!
Your choice of Don Q Passion, Limon, Pina, Coco, or Cristal in a tiki twist float.
Add a 151 floater $2+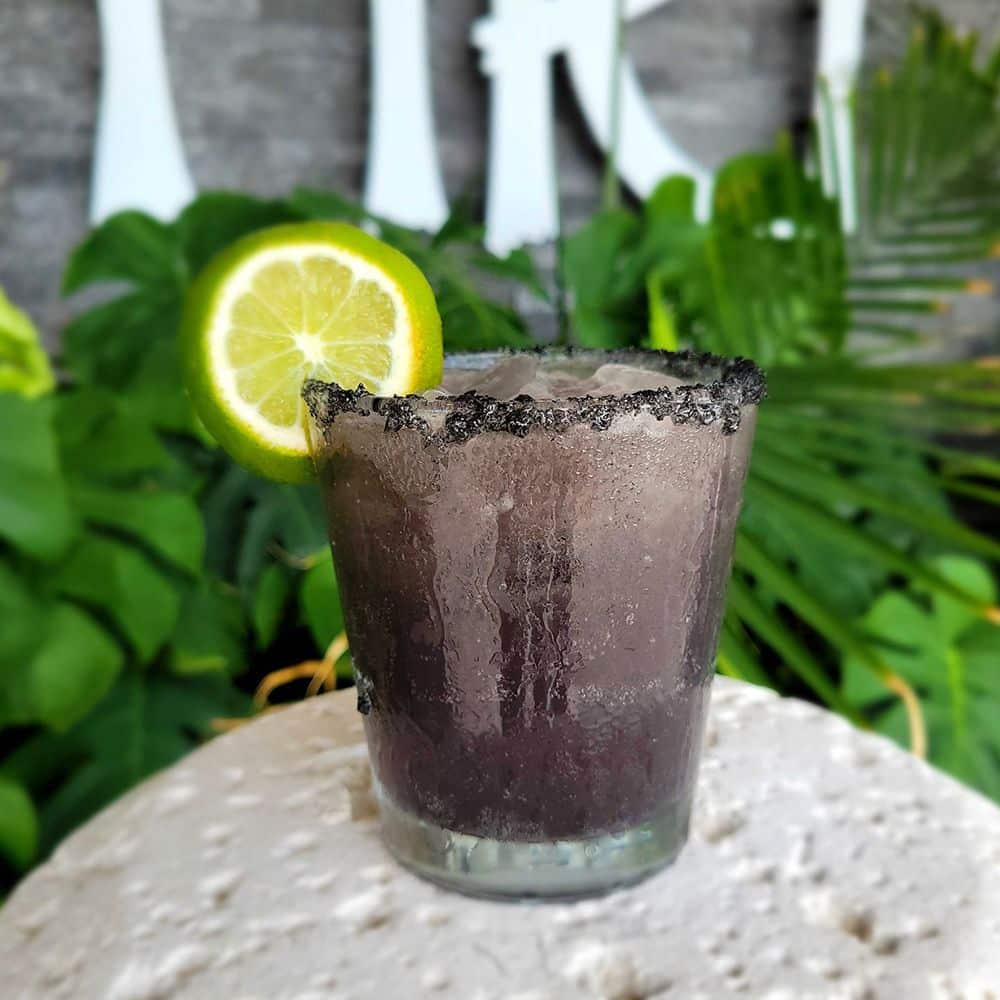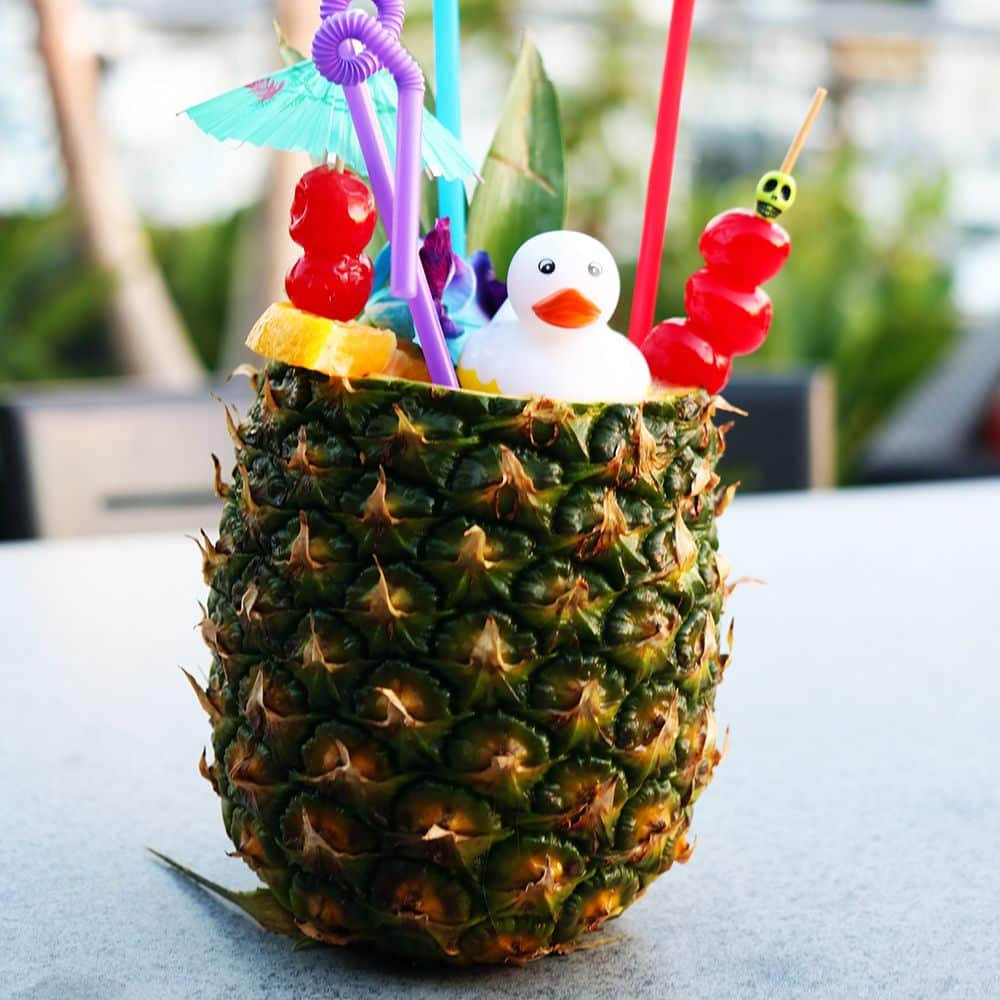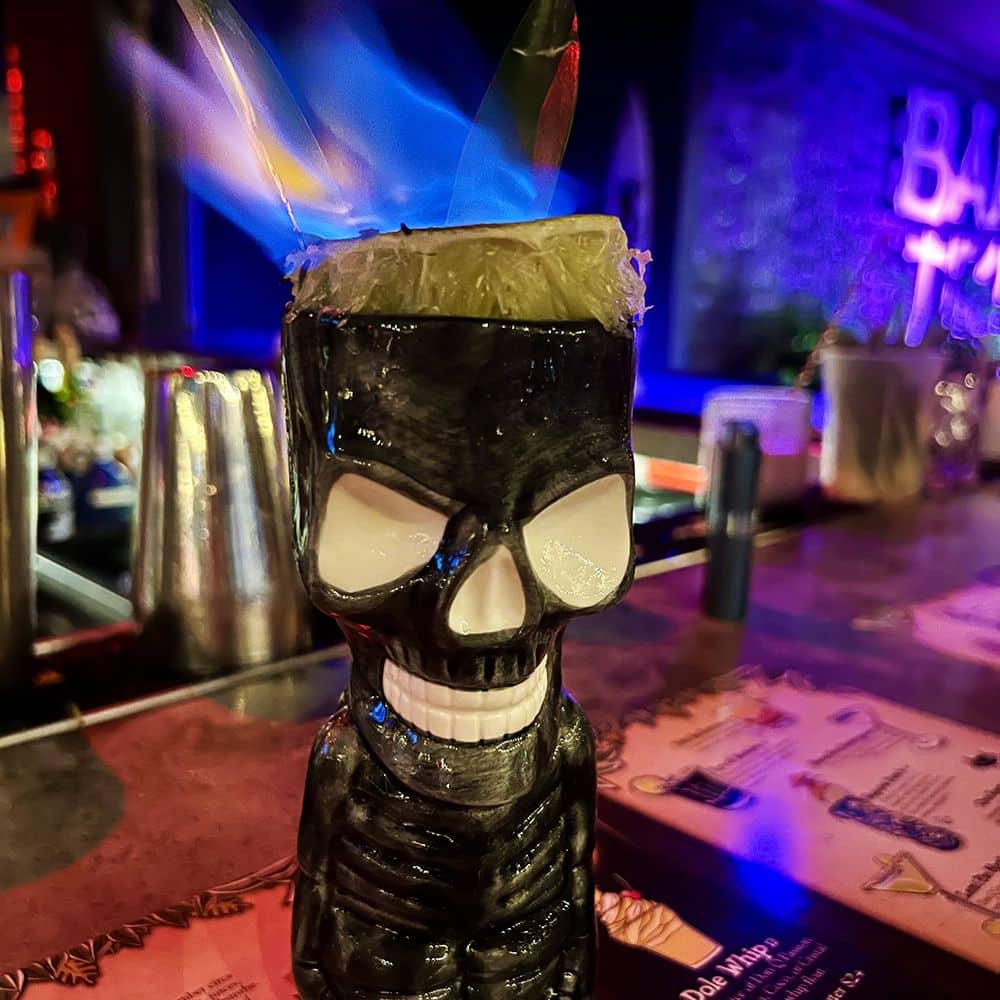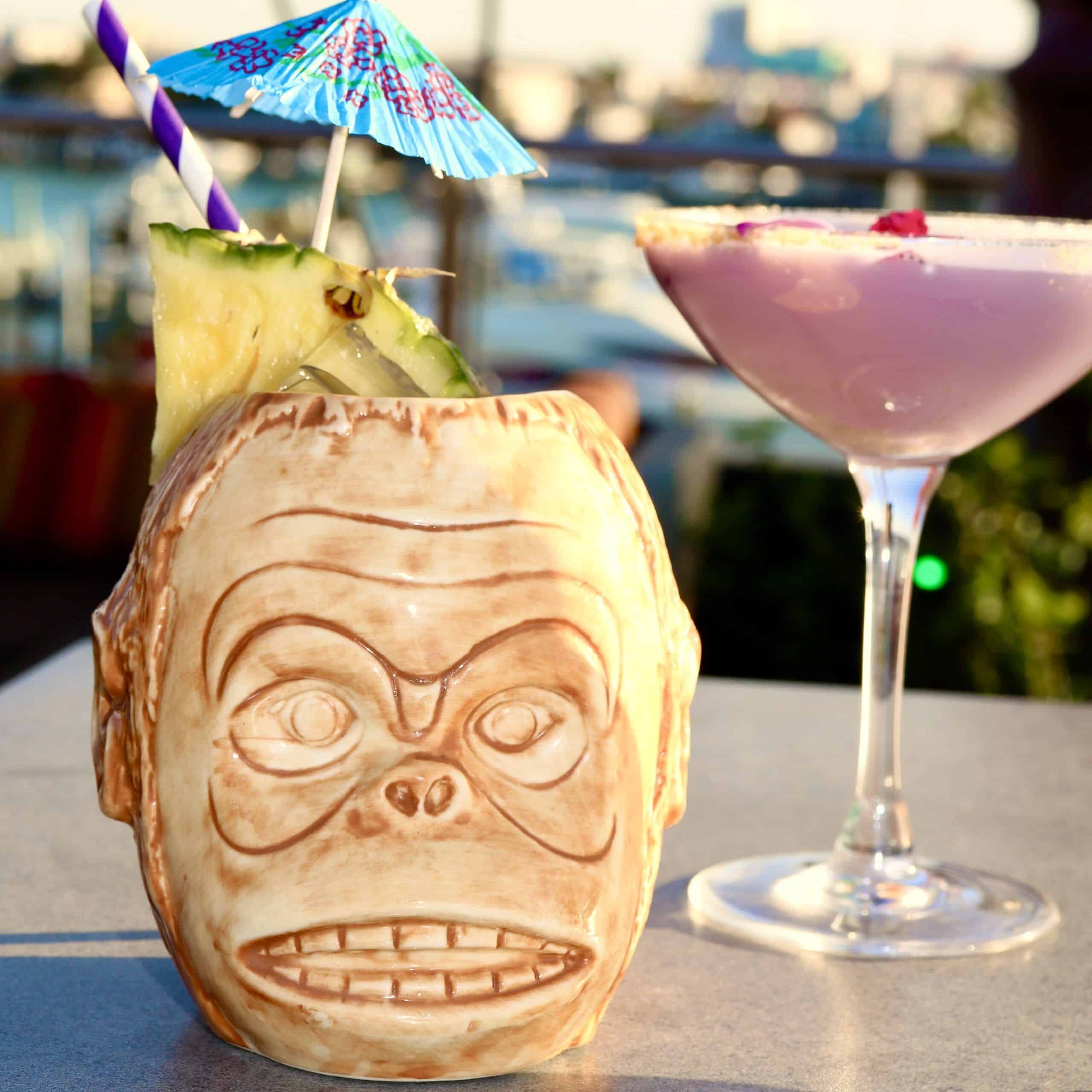 A little bit of heat from the God of war -Maestro dobel, pomegranite jalapeño simple, lime juice & cointreau.
Careful who you choose! Featuring Bar Tiki blended rum and your bartenders choice of mixes!
keep the mug $30
perfected by Rachel D. 2023 Classic daquiri with a Bar Tiki twist! Flavors of cinnamon, grapefruit, honey, lime, and black walnut bitters.
Our rum old fashioned made with a pairing of Brugal 1888 Rum, plum bitters, and "D's Secret Simple". Don't ask, because we won't tell.
A victorious celebration of Don Q rums, allspice dram, cinnamon, orange, and vanilla
Guri Guri • Tiki Torch
'Oma'oma'o 'awa'awa
Bar Tiki's signature volcano bowl is 48oz of pure tiki wonder featuring Don Q Reserva, Gold, 151, and a few other secret ingredients. best enjoyed with friends! serves 6+
crafted by Sierra K. 2023
Cinnamon infused Don Q, honey, vanilla, and fresh lime juice
the ultimate pina colada choice of Don Q flavored rum
crafted by Krizia L. 2023
Don Q Limon, blue curacao, blueberry puree, pineapple juice,
lime juice
Try our craft beer selection!
We offer a rotating variety of unique craft beers from breweries such as
Voodoo Ranger, Golden Road, Terrapin, Big Storm, ACE and more!
Barrel Select Rum Menu
Bar tiki rum, amaro tropicale, lime, d's secret simple syrup, orgeat, pineapple
keep the mug for $30
bar tiki rum, lbisco bitters, macadamia, lime, pineapple
bar tiki rum, amaro tropicale, coconut milk, hazelnut, lime, pineapple frangelico floater
bar tiki rum, elderflower liqueur, agave, passionfruit
Bar Tiki rum by Dark Door Spirits - Tampa, FL
Spirit-Less Menu
Enjoy the Luau
without losing your head
with our Non-Alcoholic cocktail menu!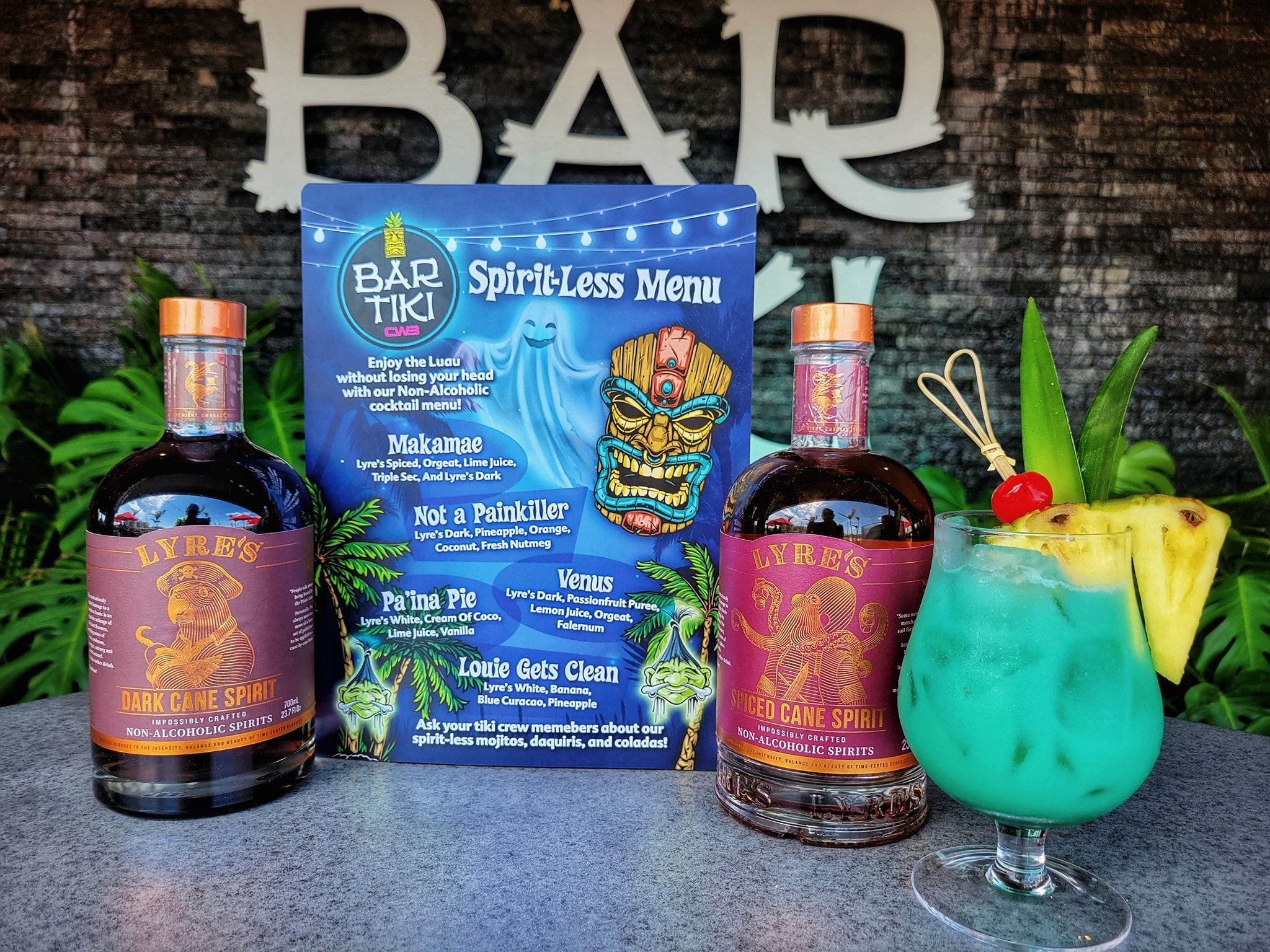 Lyre's Spiced, Orgeat, Lime Juice,
Triple Sec, And Lyre's Dark
Lyre's Dark, Pineapple, Orange, Coconut, Fresh Nutmeg
Lyre's Dark, Passionfruit Puree, Lemon Juice, Orgeat, Falernum
Lyre's White, Banana, Blue Curacao, Pineapple
Lyre's White, Cream Of Coco, Lime Juice, Vanilla
Sweet Summer Menu
RumHaven Sweet
Summer Menu

© 2022 Baystar Restaurant Group. All Rights Reserved.
Website Design & Development by Coastal Azul Digital Marketing